Faro Airport private taxis
⇄

transfers to

&

from

Luz

Meet & greet service for private transport between Faro Airport and your final destination in Luz. Exclusive arrival & departure airport transfers on quality taxis, minibuses and coaches with friendly drivers at the best prices. Easy online booking with immediate confirmation and no sign-in required.
Official supplier
Premium vehicles
English speaking polite chauffeurs
Meet & greet with luggage assistance
Private & direct transport - not shared
Free WiFi on-board
Free booster & baby seats
Diligent & punctual service
Excellent value for money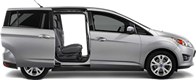 FAO

approved taxi transfers
Pay online or pay on arrival
How it works & Service details
Luz, Lagos
Located inside the Lagos municipality in the Western Algarve area, Luz stays about 95 Km from Faro airport and transfer time takes approximately 1 h 00 min, depending on the exact location of your hotel in Luz and traffic conditions. This page provides insightful information and prices regarding the two most common transport options from Faro Airport to Luz, so you know what to expect upon your arrival at Faro Airport and to help you decide between a regular public taxi or a private airport transfer to Luz.
Hotels in Luz
We provide private taxis at Faro airport for hotel transfers, transport to holiday villas or any given address in Luz. Next follows a list of hotels and resorts in Luz with the most frequent airport transfer requests:
Transport options from Faro Airport to Luz
Travelling to the Algarve soon and searching for ground transportation from Faro Airport straight to your holiday accommodation in Luz? Because there are no train nor public bus connections from Faro Airport to Luz - only possible from Faro city centre, 8 Km away from the airport - basically you have two options: arrange for a private taxi transfer to Luz or take a regular public taxi to Luz. The first needs to pre-booked online prior to your arrival while the second doesn't but is subject to availability upon your arrival and implies waiting time at the airport taxi rank.
Faro Airport ⇄ Luz:

price comparison between a private taxi transfer and a regular public taxi
Nr. of Passengers

Private

taxi transfer

Public

taxi
up to 4 PAX
66€
96€
5 to 8 PAX
80€
122€
9 to 16 PAX
125€
not possible
16 to 24 PAX
226€
not possible
25 to 49 PAX
322€
not possible
Public taxi prices represent an estimate of the final total value. Private taxi transfer prices are fixed for any given address in Luz.
Private transfers vs. public taxis to Luz:
In general, the private transfer prices are considerably lower than public taxis and you get a more personalized, faster and hassle free transport alternative to Luz - meet & greet service with fixed rates for the entire Luz area regardless of the exact address of your hotel or journey duration.
Unlike public taxis, the private transfer service also provides minibuses and coaches for bigger groups with more than 8 passengers. And for those travelling with infants, the pre-booked transfer service is definitely a better choice in terms of children safety equipment on-board the vehicles.
For a more in-depth comparison between public and private taxis between Faro airport and Luz, highlighting side-by-side the main differences between each service, please refer to the private vs. public taxis comparison table.
Public taxis: Faro Airport ⇄ Luz
Standard public taxis at Faro Airport, as in the rest of Portugal apply variable fares based on travelled kilometres and taxi idle time. The rate also varies according to the time of day and taxi passenger capacity. For this reason the price of a public taxi from Faro Airport to Luz shown on this page is an estimate of the final total cost, as it may vary depending on the exact address of your hotel in Luz and traffic conditions. The following table gives you an idea of the charges applied and an estimate for the total cost should you decide to take a cab between Faro Airport and Luz.
Faro Airport ⇄ Luz:

public taxi fares / charges and estimated total price
Fare / Charge
4 PAX

Public

Taxi
8 PAX

Public

Taxi
Taxi start / minimum fare
3,25€
3,25€
Taxi fare per km
0,94€ / Km
1,21€ / Km
Taxi fare per idle time
0,25€ / min
0,25€ / min
Use of the taxi boot / luggage compartment
1,60€
1,60€
Estimated total cost to Luz
96€
122€
Public taxis to Luz - be aware that:
The estimated total cost assumes a taxi journey under normal traffic conditions.
The above taxi fares to Luz increase by 20% on nightime services between 9PM and 6AM, on weekends and holidays.
Public taxis are in average 20% more expensive than pre-booking a private airport transfer.
During the summer months Faro Airport stays very busy and the waiting time at the taxi rank increases significantly.
Bigger sized public taxis up to 8 passengers are not as frequent as the 4 passenger taxis. So if your travel group is over 4 persons you might end up having to take two separate cabs and pay twice the value to get everyone to Luz.
Private taxi transfers: Faro Airport ⇄ Luz
Forget struggling with luggage and the heat in the waiting lines of Faro Airport taxi rank. There's a faster, more comfortable and yet very affordable transport alternative: online booking of private taxi transfers from Faro Airport to Luz. Meet & greet service carried out by professional drivers on a range of quality, modern transfer vehicles ready for different group sizes and luggage requirements - sedans, vans, minibuses and coaches. Reliable and economical hotel transfers, transport to private villas or any given address in Luz that will you save you money and precious holiday time in the Algarve. See the section how it works for more service details. We will be very pleased to welcome you at Faro Airport.
Private transfers to Luz - the best value for money option!
Air conditioning available on all vehicles to deal with the Algarve hot summer temperatures.
Free Wi-Fi available on-board all vehicles.
Travelling with infants? Appropriate safety seats - baby seats or booster seats - will be pre-installed in your transfer vehicle free of charge.
Meet & greet and luggage assistance by professional, courteous English speaking chauffeurs with complimentary wait time on flight delays included.
Luggage items only limited to the vehicle size and no extra charge is applied for using the car boot as it happens with regular public taxis.
Hotel transfers: Luz
Private taxis from Faro airport straight to your hotel in Luz - not shared and no stops en-route. The best transport option for your arrival and departure airport transfers in the Algarve, especially for those passengers with early morning flights at Faro airport. Transport for your travel group only, charged per transfer vehicle, not per passenger as in a shared shuttle service. Here follows a table with our transfer prices to popular hotels and resorts in Luz:
Faro Airport ⇄ Luz:

hotel transfer prices - private taxis with fixed fares, all inclusive rates

| Faro Airport to hotel / resort | up to 4 PAX | 5 to 8 PAX | 9 to 16 PAX |
| --- | --- | --- | --- |
| Aparthotel Vila Luz | 66€ | 80€ | 125€ |
| Baia da Luz | 66€ | 80€ | 125€ |
| Belver Porto Dona Maria Golf & Resort | 66€ | 80€ | 125€ |
| Club House CVL | 66€ | 80€ | 125€ |
| Estrela da Luz | 66€ | 80€ | 125€ |
| Hotel Belavista da Luz | 66€ | 80€ | 125€ |
| Luz Bay Hotel | 66€ | 80€ | 125€ |
| Luzmar Villas | 66€ | 80€ | 125€ |
| Mar da Luz | 66€ | 80€ | 125€ |
| Montinho De Ouro | 66€ | 80€ | 125€ |
| Residencial Vilamar | 66€ | 80€ | 125€ |
| Vila Valverde Design Country Hotel | 66€ | 80€ | 125€ |
Transfer prices to Luz and the Lagos area
Faro Airport ⇄ Luz:

private taxi transfer prices to Luz and nearby destinations - fixed fares, all inclusive rates

| Faro airport taxi / transfer to | up to 4 PAX | 5 to 8 PAX | Travel distance / time |
| --- | --- | --- | --- |
| Luz | 66€ | 80€ | 95 Km / 60 mins |
| Barao de Sao Joao | 78€ | 90€ | 95 Km / 65 mins |
| Bensafrim | 65€ | 76€ | 87 Km / 55 mins |
| Espiche | 66€ | 80€ | 92 Km / 60 mins |
| Lagos | 65€ | 76€ | 82 Km / 78 mins |
| Meia Praia | 65€ | 76€ | 81 Km / 78 mins |
| Odiaxere | 65€ | 76€ | 75 Km / 70 mins |
| Porto de Mos | 66€ | 80€ | 91 Km / 60 mins |
| Praia da Luz | 66€ | 80€ | 88 Km / 85 mins |
Other destinations nearby Luz in the Lagos area
If not in Luz, maybe your accommodation is located at one of the other known destinations in the Lagos municipality.